NAB AFL Women's Premiers
NAB AFL Women's Grand Final Best on Ground Award
| Year | Player | Team |
| --- | --- | --- |
| 2019 | Erin Phillips | Adelaide Crows |
| 2018 | Monique Conti | Western Bulldogs |
| 2017 | Erin Phillips | Adelaide Crows |
NAB AFL Women's Rising Star Award
NAB AFL Women's Best & Fairest Trophy
The officiating umpires will award votes on a 3,2,1 basis after each match, with votes to be counted as part of the W Awards.
Any player suspended by the AFL during the season will be ineligible to receive the award.
AFLW Leading Goalkicker Award
To be awarded to the player(s) with the highest number of goals during the home-and-away season, and presented at the W Awards.
| Year | Player | Team | Goals |
| --- | --- | --- | --- |
| 2020 | Caitlin Greiser | St Kilda | 10 |
| 2019 | Stevie-Lee Thompson | Adelaide Crows | 13  |
| 2018 | Brooke Lochland | Western Bulldogs | 12 |
| 2017 | Darcy Vescio | Carlton | 14 |
AFLW Mark of the Year
AFLW Goal of the Year
| Year | Player | Team |
| --- | --- | --- |
| 2020 | Kate Hore | Melbourne |
| 2019 | Ashley Sharp | Fremantle  |
| 2018 | Aliesha Newman | Melbourne |
| 2017 | Erin Phillips | Adelaide Crows |
2020 Toyota AFL Women's All Australian Team
2019 Virgin Australia AFL Women's All Australian Team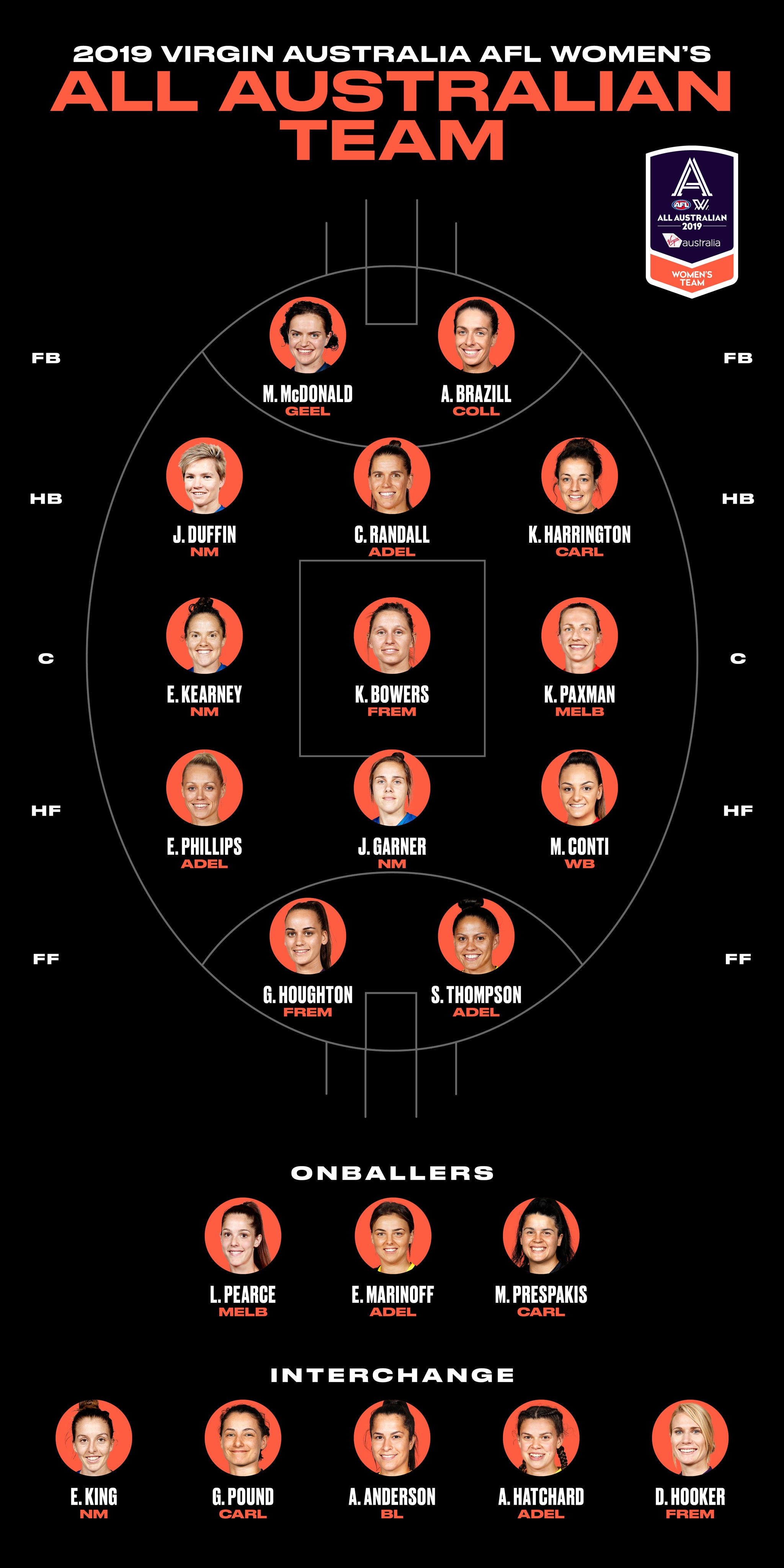 Adelaide: Chelsea Randall, Jess Foley, Marijana Rajcic, Ebony Marinoff, Sarah Allan, Anne Hatchard, Erin Phillips, Stevie-Lee Thompson, Eloise Jones
 
Brisbane: Ally Anderson, Nat Exon, Kate Lutkins, Jess Wuetschner
 
Carlton: Kerryn Harrington, Gabbie Pound, Maddie Prespakis, Brianna Davey
 
Collingwood: Ash Brazill, Jaimee Lambert
 
Fremantle: Kiara Bowers, Kellie Gibson, Sabreena Duffy, Ebony Antonio, Gemma Houghton, Dana Hooker
 
Geelong: Meg McDonald, Maddy McMahon
 
Greater Western Sydney: Alyce Parker, Rebecca Beeson
 
Melbourne: Tegan Cunningham, Lauren Pearce, Elise O'Dea, Karen Paxman
 
North Melbourne: Emma King, Jasmine Garner, Emma Kearney, Jenna Bruton, Jess Duffin
 
Western Bulldogs: Ellie Blackburn, Monique Conti
2018 Virgin Australia AFL Women's All Australian Team
FB:  COLL - C. Molloy, BL - K. Lutkins
HB:  WB - H. Scott, ADEL - C. Randall (C), FRE - E. Antonio
C:  FRE - D. Hooker, WB - E. Kearney, GWS - A. Eva
HF:  MELB - E. O'Dea, BL - S. Frederick-Traub, WB - B. Lochland
FF:  BL - J. Wuetschner, COLL - C. Bernardi
FOLL:  GWS - E. McKinnon, GWS - C. Gum, MELB - D. Pearce (VC)
I/C:  BL - E. Bates, CARL - T. Harris, MELB - K. Paxman, WB - E. Blackburn, MELB - M. Downie
2017 Virgin Australia AFL Women's All Australian team
Defenders: Nicola Stevens (Collingwood), Courtney Cramey (Adelaide Crows), Chelsea Randall (Adelaide Crows), Brianna Davey (Carlton), Karen Paxman (Melbourne)
Midfield: Elise O'Dea (Melbourne), Daisy Pearce (Melbourne), Emma Kearney (Western Bulldogs), Emma King (Collingwood), Kara Donnellan (Fremantle), Emily Bates (Brisbane Lions) 
Forwards: Erin Phillips (Adelaide Crows), Sabrina Frederick-Traub (Brisbane Lions), Ellie Blackburn (Western Bulldogs), Sarah Perkins (Adelaide Crows), Darcy Vescio (Carlton)
Interchange: Jessica Dal Pos (Greater Western Sydney), Kate McCarthy (Brisbane Lions), Ebony Marinoff (Adelaide Crows), Tayla Harris (Brisbane Lions), Melissa Hickey (Melbourne), Sam Virgo (Brisbane Lions)